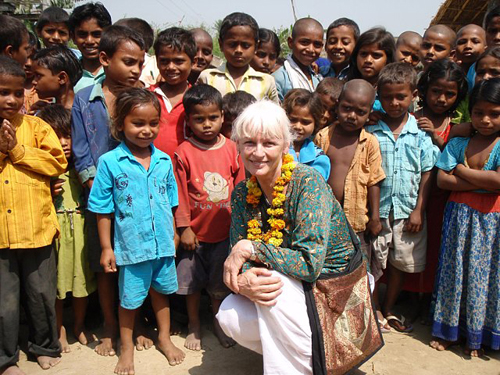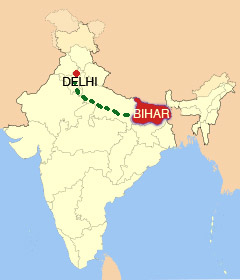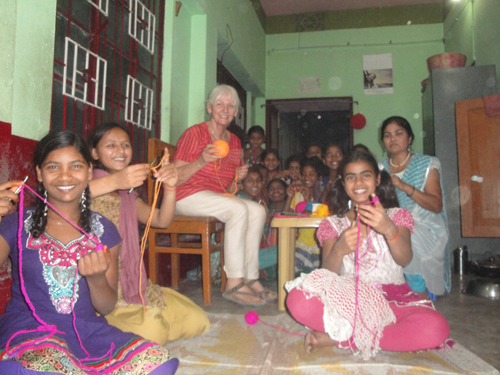 In October 2006 I accompanied my friend, Sue Tennant, president of the charity FreeSchools World Literacy-Canada, to Bihar, the most primitive region of India. Here Sr. Mary Crescence of the Sacred Heart Sisters Society had established free schools for disadvantaged lower caste children who would otherwise remain illiterate. Classes took place in convent classrooms after regular school hours or on donated village property, and FSWL funded the teachers and staff. Starting with one class in the Motihari convent in 2001, by 2006 there were over 20 FreeSchools Motihari, Muzzarfarpur, and Bettiah.
I was unprepared for the impact this visit would have on my life. Getting to know the Sisters and their work firsthand, visiting the schools and looking into the bright eyes of smart children who were so eager to learn and so grateful for the opportunity, I realized that I needed to help. Seeing how each donated penny was carefully spent by incorruptible Sisters, I had found my mission for helping to make a difference in our world. You don't need to be Catholic to appreciate the important work these Sisters have been quietly doing to raise living standards in Bihar for the past 90 years!
I am not a professional fundraiser but an ordinary retired person who has found meaning and purpose at this stage of my life by helping to raise money for the work of the Sisters―through the generosity of many friends. Since 2006 I have returned to Bihar four times: in 2007 with Sue and Dr. John Lange, in 2010 with Dr. Lange and FSWL-USA president Geri Johnson, in 2012 with my cousin Els Schep, and in 2015 again with Geri.
Through the years, together with friends, we have helped to raise money not only for the schools, but also a program initiated by Sr. Crescence called Bridge Course. In this program, each year 18 of the brightest girls from the free schools are selected and tested to be educated while boarding at the convent in Bettiah. These girls who would otherwise remain illiterate are given a chance to catch up and attend the government schools, and from there perhaps go on to higher studies. First we collected money to fund a building within the convent grounds, which was opened in 2010. Since then each year have raised approximately $7,500 for the girls' scholarships, covering everything from room, board, teaching materials, staff salaries, and building maintenance. To date, in 2016, around 90 girls have benefited from this program.
ServicetoHumanity.org works in partnership with trusted non-profits such as Mind, Body, and Spirit, Inc., and FreeSchools World Literacy-USA. All donations are tax deductible.